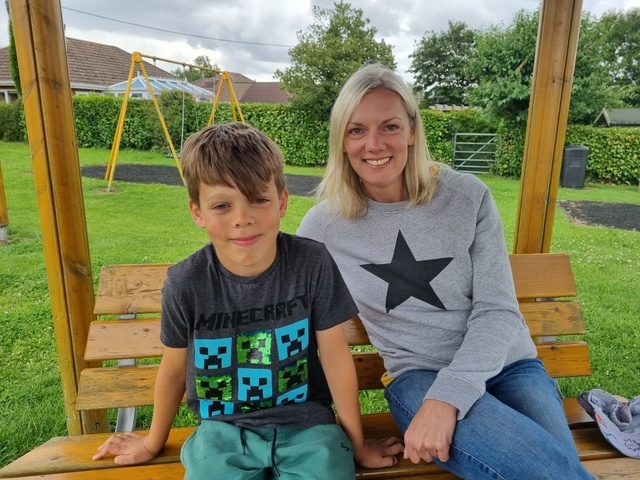 I'm so delighted to introduce everyone to Nicky, our third Baby Squids franchisee! Nicky is now the proud owner of the Salisbury postcode area licensed to run Baby Squids classes.
It's likely that 1000's of customers from over the years will know Nicky as being the amazing Chief Assistant who has supported me in head office for years. I actually don't know what I'll do without her as she flies off with her very own business to run. Already having taken on Salisbury during the pandemic she has set herself up with more hours, more pools and new teachers. Nicky is brilliant at what she does, she is calm, patient and supportive and her customer service is beyond outstanding!! Here Nicky tells you a little about herself and why this was the obvious choice.
I often think back to where my swimming journey began, as I like to remind myself how lucky I am to be in the position I am now, and I do honestly feel very blessed to be part of this wonderful world of swimming.

It started 8 Years ago, back when my eldest Son was just 3 Months old and we had signed up for Baby swimming classes which happened to be in the very same pool that I teach out of now. It was a wonderful introduction into baby swimming classes, and as I gained lots of knowledge of how many amazing benefits there were for my baby and also for me as a nervous first time Mum, my love for the classes grew and grew.

I was on Maternity leave from an office job which I didn't find particularly rewarding, and felt that maybe there was something else out there for me. I remember a conversation with a close friend who asked me if I could do any job, what would it be?. I surprised myself with my answer and didn't hesitate to say I would love to be a Baby Swimming Teacher. My experience had been so rewarding, that I knew I wanted to pass on my love for the classes, and help others experience the benefits, positivity, skills and valuable life lesson that swimming brings.

After a twist of fate my friend forwarded me an email about a weekend swimming job, and the rest as they say is history. There were a couple of challenging times when I was trying to complete my training with a baby to look after, and when I returned to my usual job whilst also teaching at the weekends, but I persisted knowing this was my goal and that this is what I truly wanted to do. It snowballed from there really in such a positive way. I got more teaching hours in the week which meant I could leave my office job, and then started working in the Baby Squids Office alongside teaching.

Owning a franchise with Baby Squids was always something I was really keen to do, and when the opportunity came up to take on the Salisbury area I was beyond excited, especially as this is where it had all started! There are a few moments when I have had a wobble, which I think is natural and owning a business is a big step, but I already have no doubts at all about my decision. I love being my own boss, sharing my love of swimming, and I still work mainly term time which is a big bonus for me having a work/life balance.

I can honestly say that I have never worked for any other company that has given me so much joy, and the support from Baby Squids teachers, other franchisees and Laura, the amazing woman at the helm of this wonderful company throughout my entire journey has been incredible. I am proud to be a Baby Squid.

Nicky x
Welcome Nicky! You are going to smash it.
Laura x